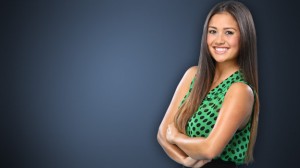 Bachelor winner Catherine Giudici and her fiance Sean Lowe are already talking about having children, according to The Stir.
Sean has been quoted as saying Catherine wants three kids and he's cool with that.
Lowe joked their babies may end up looking like Manny Pacquiao, apparently the only other  Filipino he knows.
Now that their family is all set, maybe they'll start talking about their wedding plans. So far no date has been announced for the engaged couple.