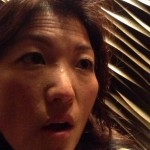 Imagine being stuck on the 23rd floor in an elevator with 16 people and doing live reports about it.
That's what Juju Chung faced last night, according to Twitchy.
The ABC news correspondent sent out live tweets about her ordeal.
"#fdny is here 17 of us… oh man. We're all sweating." tweeted Juju at 7:53 last night.
Then five minutes later "We are all sweating buckets. The giggling has stopped, this is not fun. This is serious #fdny"
The last picture she tweeted out showed her sweating and not looking happy.
Actually that was pretty smart of JuJu to call for help via Twitter. Great way to keep people posted on her whereabouts and perhaps get a faster response from emergency workers.
All 17 were eventually rescued by the New York City Fire Department.