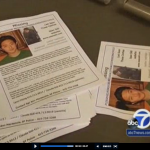 The search has been intensified for a missing HAPA teen in San Francisco suffering from a brain injury, according to ABC7.
Sean Sidi was last seen two weeks ago when he went to visit a former teacher in San Francisco.
He talked to his father by phone two hours later, and that's the last anyone has ever heard from him.
Sidi is said to be recovering from a brain injury he sustained a year ago.
"Initially the police thought that the cellphone ping of Sean's last call was at Baker Beach," said his mother, Lynn Ching. "The reconfigured information is that the cellphone ping came from the east end of Golden Gate Park, which is why we're here today."
A search organized by the Klaas Kids Foundation took place in Golden Gate Park Sunday. His father conducted a separate search in Marin and Sonoma Counties across the Golden Gate Bridge from San Francisco.
Sidi is of mixed Caucasian and Asian descent, with dark brown hair and eyes and braces on his teeth. He is 5 feet 5 inches tall and weighs 120 pounds.
Anyone with any information is urged to call SanFrancisco police at (415) 734-3268 or go to www.seansidi.com.