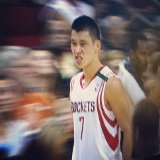 It may be the off season for Jeremy Lin, but the popular point guard is finding time to reach out to his legion of fans.
Lin has declared this Fan Appreciation Week and to kick it off he held a question and answer session simultaneously on both his English and Chinese language Facebook pages.
It may have been a bit too ambitious as many fans expressed disappointment that Lin didn't answer their question.
Nonetheless most expressed their love for their favorite basketball player and thanked him for taking the time.
Doris Liu asked: What is your mother's reaction to your new hair style:
Jeremy told her " She loves it, hahaha."
But Doris didn't believe him, responding "lol I AM A MOTHER TOO."
Christine Yu continued to tease Jeremy by asking "I want to know what happen to your hair@@@@LOL….jk"
It was originally unclear to this fashion stylist what hairstyle fans are talking about, but here's an Instagram photo from May 20 showing Jeremy with Kev Jumba, Ryan Higa &  Josh F.
Update: Mystery solved over Jeremy's Hair. JoJo sent out this Instagram photo
Wow, Jeremy's new mohawk. Now I know what all the fuss is all about.
Meanwhile, when fans finally stopped talking about his hair, another fan wondered "If you had the ability to transform into animal ,what would it be ?"
Said Jeremy, "It's a tie between a T-Rex and a sabertooth"
So went the Q&A. No real news came out of it, but fans seemed to enjoy it.
Even his younger brother, Joseph got into the act, asking What does FFF mean?
Lemme answer your question with another question," answered Lin. "Why wouldn't you just ask me in person…you're next to me lol."
The rest of Fan Appreciation Week includes a Rockets Artwork Contest, Instagram Impersonation Contest, another Q&A on Sina Weibo and a multiple choice quiz. You can find full details here.
You can read the rest of the Facebook Q&A here.