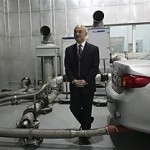 The long ordeal of a Chinese American restricted from leaving China for five years is finally back in his Los Angeles home, reported the Washington Post & AP.
"I got a call from my son, 'Dad's home! Dad's home!'" his wife Hong Li said
Chinese-American scientist  was jailed for 17 months after being accused of stealing trade secrets by a business rival. He tried to go home after being cleared of wrongdoing. But China stopped him at the airport after the same business rival sued him. Authorities refused to let Hu leave until his case was resolved.
His family in Los Angeles has been pressing the U.S. State Department for help ever since. His release comes just days before a summit between President Barack Obama and Chinese leader Xi Jinping. The family did not know if the timing played any part in Hu's release. The lawsuit filed by the business rival remains unresolved.
Hu's wife is overwhelmed by the developments.
"We need time together," she said of the family. "We haven't had time to recover physically and emotionally yet."
You can read what the State Department and Chinese officials say about all this in the Washington Post & AP.