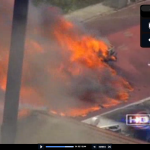 Hundreds of Indian Americans came out to pay tribute to four firefighters in Houston who died fighting a fire last week at a a motel, reports the Business Standard.
A prayer meeting was held at the India House to honor the four fallen heroes.
Reports indicate that fire   quickly spread from the Indian restaurant Bhojan in the rear. 155 firefighters responded to the blaze and  the four firefighters were reportedly killed when part of the building collapsed.
"At this time of tragedy and human suffering, the Indian American community is coming together to help the victims' families," the organizers said.
Among the Indian American organizations who participated in the service were the India Culture Center, India House, Hindus of Greater Houston, Indo-American Chamber of Commerce, Indo-American Charity Foundation, Sewa International, Indo-American Political Action Committee.