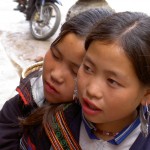 Researchers at the University of California at Los Angeles have found that Southeast Asian Americans remain among the have-nots when it comes to economics in the United States, according to an article in Diverse Issues of Higher Education.
"On one hand, data has shown decade after decade the ongoing reliance on food stamps and social welfare programs by Southeast Asians," De La Cruz-Viesca said. "But I'm also somewhat surprised, as we enter the fourth decade of them living in this country, that language barriers are still so persistent and that there haven't been more experiences and opportunities to transition them to new labor markets."
For instance 23 percent of Hmong Americans in Fresno, California are on cash public assistance as are 12 percent of Cambodian American in Los Angeles. In Jacksonville, FL, the average per capita income among Filipino Americans is 21 percent below whites.
Overall rate of home ownership among Asian Americans has declined 1.5 times faster than whites.
You can read more about these increasing disparities in Diverse Issues of Higher Education.