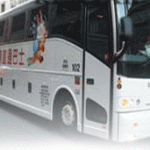 Federal regulators shut down the Lucky Star Bus Company today which runs from New York to Boston, reports Jalopnik.
The company was accused by regulators of lacking proper maintenance and not checking its workers for drugs and alcohol, or monitoring their hours to guard against exhaustion.
Authorities said four of six buses inspected in May had to be taken out of service. Inspectors found 69 violations among the buses tested.
Those holding tickets will receive full refunds. You can read more about the violations in the Jalopnik.