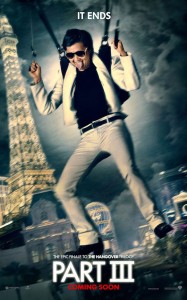 Ken Jeong is good for a laugh or two, but apparently not good enough to get top billing, according to Guy Aoki of the Media Action Network for Asian Americans.
Jeong plays a significant role in Hangover Part III. Some might say he's the lead. Yet trailers promoting Hangover barely show Jeong at all.
In a blog for Rafu Shimpo, Aoki writes: " Now, cynic that I am, I'm assuming Warner Brothers didn't want to feature Chow too prominently in the trailers, fearing potential customers might think too much of the sociopath and decide to see another movie instead. But in the future, it would be encouraging to see a big Hollywood studio not shy away from using Asian faces in their promotional clips."
Another Asian American that is being buried by Hollywood is director M Night Shyamalan. Shyamalan directed After Earth starring Will Smith and his son Jaden.  Neither the movie trailers or posters for After Earth even mention Shyamalan. After bursting onto the Hollywood scene with Sixth Sense, the director has directed a string of disappointments. Seems Sony Pictures thought Shyamalan might scare away movie goers. Didn't seem to matter. The movie took in 27 million in its opening weekend, well short of the $35-40 million expected.
You can read more of Aoki's take on Hollywood and Asian Americans, including his thoughts on Misstresses, in Rafu Shimpo.