Harry Shum Jr of Glee fame is in production for a new movie directed by Hong Kong director Andrew Lau and producer Martin Scorsese, reports International Secret Agent.
The movie Revenge of the Green Draqon is the story of the rise and fall of two Chinese siblings from a New York gang called the Green Dragons.
IMDB does not say what role Shum will play.
But rumor has it he will be cast with You Tube celebrity Kev Jumba(pictured right) and Juston Chon who's appeared in a number of movies and TV series over the last few years.
There's also speculation that rapper MC Jin(pictured below) may join them.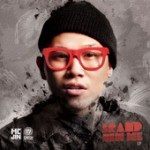 Justin & Jin have been dropping hints on their Twitter feed. You can read those tweets at  International Secret Agent.
Stay tune.