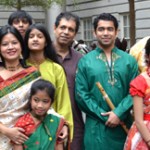 With so many different sub groups comprising the Asian American and Pacific Islander communities, many of the issues facing this diverse community have gone unnoticed.
The Obama administration is arguably the first presidency to recognize that. According to the Miami Herald and Associated Press,  the White House is breaking down the data into as many groups as possible to uncover disparities.
Just 10 percent of the Samoans and 12 percent of the Laotian Americans ages 25 and older  have received bachelor degrees.
A two day meeting was held at the White House to look at how best to tackle these problems and flesh them out from the data.
"Of course we take a lot of pride in the success of individuals in the Asian-American/Pacific Islander community, but what we try to emphasize is we do a disservice not looking at the full breadth of circumstances and the different experiences of all these individuals," Kiran Ahuja, executive director of the White House Initiative on Asian Americans and Pacific Islanders, said.
 You can read more about how the Census breaks down this data and how this is being used by the Department of Education in the 
Miami Herald
.