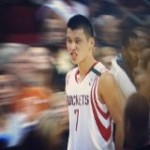 (Updated June 11 with quote from Houston Chronicle from Rockets source)
This scenario seems far fetched, but then again, what team wouldn't want a talent like Chris Paul?
Sportige reports that Paul could be leaving the Los Angeles Clippers and one team he could go to is the Houston Rockets.
An unnamed source quoted by the Houston Chronicle says Paul and Dwight Howard are "targets no. 1 and 1A" for the Rockets.
The Clippers reportedly fired coach Vinney Del Negro because Paul demanded it. But Paul got mad when word got out that he was responsible for the firing, forcing Clipper management to take sole responsibility for Del Negro's ouster.
Paul becomes a free agent July1st. It's widely believed the Clippers are expected to resign Paul. But with the latest developments, who knows? Crazier things have happened.
For the Rockets to get Paul, one thing has to happen–Paul would have to want to go there.
A back court of James Harden and Chris Paul would arguably be the best guard duo in the NBA. There's no denying that Paul would be an upgrade from Lin, a player who is still developing.
If it were to happen, Lin at the very least would go to the bench. But Sportige  speculates Lin would be traded.
Here's why this doesn't make sense. The Rockets need help at the strong forward and the center positions. Why would they put so much into another point guard even if it were an upgrade?  Harden has trouble sharing the ball with Lin. Do you really see him giving up touches for Paul? I don't see it happen.
What do you think?