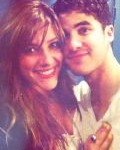 If they weren't official before, they are now. Darren Criss attended the Tony after-party with girlfriend Mia Swier, reports Teen Daily.
Criss has been coy about his girlfriend, mentioning her back in March in a tweet to help Mia promote her new album.
The couple have been reportedly dating since 2011.
You can see a photo of Criss with Swier at the after party in Teen Daily.