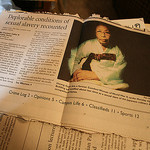 The condemnation against Osaka Mayor Toru Hashimoto is mounting in the wake of comments he made that the sexual enslavement of women by the Japanese military during World War II was necessary.
KGO-TV reports that San Francisco Supervisor Jane Kim has introduced a resolution calling on Mayor Ed Lee to demand an apology from Hashimoto over his comments about comfort women.
This comes just days after the Osaka Mayor cancelled a visit to the United States after being warned by Mayor Lee that his visit to San Francisco and New York could be met by protests and security concerns.
"We registered it might be a challenge if he did decide to come because of the comments he's made," Lee said.
Others in the United States have joined in the outrage over Hashimoto's comments.
"As a vet who's been involved in combat, I don't see this justification in any way or form," Nelson Lum of American Legion Cathay Post 384 said.