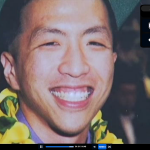 Police in Oakland, CA are baffled as to why two men shot and killed 23-year old Aya Nakano after a minor fender bender, reports ABC7/KGO.
Witnesses say the men rear ended Nakano and that's when the trouble began.
"Whether that was intentional or accidental, that is yet to be determined," Oakland Police Department spokesperson Sgt. Johnna Watson said. "Our victim did do the right thing. He pulled over."
Traffic cameras caught two men last night  getting out of their silver sedan, confronting Nakano and then shooting him.
Today would have been his 23rd birthday. He just graduated from the University of Oregon and had just finished playing basketball with friends at UC Berkeley.
You can watch an interview with Nakano's father on ABC7/KGO.