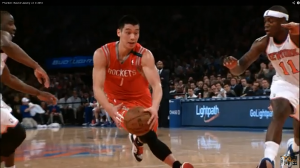 Rumors and speculation that Jeremy Lin is on his way out of Houston aside,  Lin knows he's going to have to up his game next season no matter where he plays.
The point guard posted respectable offensive numbers, but many could rightfully argue his numbers were not what you would expect from a player who gets as much media as he does.
He's going to need to show continued improvement unless he wants to risk going the way of Tim Tebow in terms of how he is looked at as an athlete.
The Bleacher Report has a pretty good breakdown of Lin's first season as a starter.
Lin received much criticism for the high number of turnovers. He gave the ball up 236 times, that's the tenth worst in the NBA. Actually his back court mate James Harden did much worst. Harden is the worst in turnovers with 295. But Harden gets away with it because of his offensive numbers are significantly better than Harden.Lin's going to need to be a better decision maker and not get caught going up in the air with the ball with no where to go and no where to pass.
Lin also need to show more consistency. He needs to be efficient with the ball and his scoring. The Rockets have a high powered offense and don't necessarily need him to put up 20 points a game every night.  But the team can't have him go 2 for 9 in games either.
Jeremy also needs to be better at finishing with his left hand. Until he does that, defenses will continue to overplay him to the right side.
What do you think Lin needs to work on in the off season? You can read the article in the Bleacher Report and then participate in its online poll on Lin.