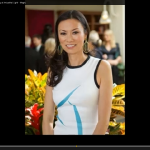 The  New York Times  reports that Rupert Murdoch has filed for a divorce from his wife of 14 years, Wendi Deng.
Wendi became a You Tube Sensation in 2011 when she defended her husband from a pie attack during a public hearing.
But a source quoted by the Times said the couple had grown apart in recent years and had begun to live separate lives. The 82-year old Murdoch concentrated on his company, News Corp, and Wendi began producing movies including Snow Flower and the Secret Fan.
The divorce could be a messy one with Murdoch's News Corp worth $73 billion dollars.
You can read a lot more about the divorce and the expected court battle in the New York Times.