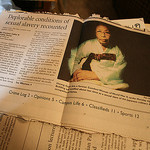 A Senate panel in the New Jersey legislature has passed a resolution in support of the comfort women fight for reparations from the Japanese government, reports North Jersey.com.
The women mostly from Korea but also from China, the Philippines, Indonesia, Thailand, Burma and other Japanese-occupied territories were enslaved in World War II to work in brothels for the Japanese military.
A memorial to comfort women was built in Palisades Park,  New Jersey in 2010 and another is proposed in Ft Lee, New Jersey.
"Some of these women were sold to 'comfort stations' as minors, others were deceptively recruited with the promise of employment and financial security, and still others were forcibly kidnapped and sent to 'work' for soldiers stationed throughout the Japanese occupied territories," said Assemblyman Gordon Johnson (D-Bergen), a co-sponsor of the bill, in a statement. "Although many have long since passed, they still deserve the dignity of having these crimes acknowledged by their perpetrators with the hope that it will never be repeated again." –