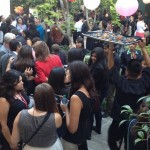 A lively crowd packed the atrium at the Pacific Asian Museum in Pasadena to kick off the second annual V3 Conference.. I was lucky to be among them.
Put on by the Los Angeles chapter of the Asian American Journalists Assocation,  the two day conference hopes to invigorate Asian American bloggers to continue to tell their stories and to inspire others to add their voice to the bloggersphere.
Keeping with that theme, V3con honored four visionaries for their contributions–journalist Richard Lui, educator Gil Asakawa, activist Grace Lee Boggs and chef/entrepreneur Roy Choi.
A common theme emerged in the acceptance speeches– all lamented not seeing postive images of Asian Americans when they grew up. As Choi put it, all he had were Connie Chung and Bruce Lee.
Gil Asakawa noted the importance in bringing light to the issues facing the Asian American community. It is apparent he is extremely proud to be able to add a Japanese American perspective in his blog, Nikkei View.
Richard Lui arrived in Pasadena after doing early Friday morning duty in New York as anchor of NBC's Early Today and on MSNBC. He's an inspiration for many Asian Americans whose families may be struggling in these tough economic times. He shared with me that his father dedicated his life to working with youth at a Chinatown church in San Francisco. Richard recalls when his family got by on food stamps. His  father sold peanuts to raise money  for the Chinatown YMCA so Richard could go to summer camp on a campership.
97-year old Grace Lee Boggs could not attend the opening Friday night, but filmmaker Grace Lee accepted on her behalf. Lee's documentary on Bogg's life, American Revolutionary, debuts Sunday at the Los Angeles Film Festival. Boggs is scheduled to appear at the conference today in a question and answer session with Richard Lui.
For more on today's activities on the conference, you can read Rafu Shimpo