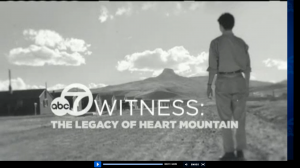 10,000 Japanese Americans were incarcerated at Heart Mountain in Wyoming during World War II. Among those imprisoned at the camp was Judge Lance Ito's family.
Their story and countless others are recounted in a the special program, Legacy of Heart Mountain, from ABC7/KABC news anchor David Ono.
Of special interest is the Hirahara photo collection. The family had a secret dark room beneath their barrack. They took thousands of photos documenting their experience in the camp.
You can watch the entire half hour special on ABC7/KABC.