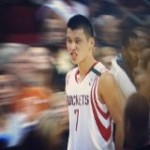 ESPN is reporting the Houston Rockets will offer Jeremy Lin and Omer Asik for Jeremy Lin.
One source told  ESPN that the threat of the Rockets signing away Howard when he becomes a free agent is very real. The Rockets are said to have the cap space to go after both Dwight Howard and Chris Paul.
Whether the Lakers would accept the deal is another question. Keeping Howard is priority number one for the Lakers, according to the Laker Nation. However if they are convinced Howard has no plans to re-sign with the team, the Lakers could agree to a trade.
 ESPN is also reporting the Clippers are also weighing their options in the Dwight Howard sweepstakes. They're considering offering Blake Griffin and Eric Bledsoe for the Laker center.