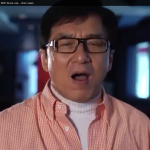 Film star Jackie Chan got his start working as a stunt man on such movies as Bruce Lee's Fist of Fury and Enter the Dragon.
Chan says his best story ever was the day he was accidentally struck in the eye by the legendary film star during a fight scene, reports the Huffington Post.
It happened during the filming of Enter the Dragon.
The scene went on until the director yelled "cut."
Chan said he milked it for all it was worth.
He suffered a black eye, but from then on, Bruce Lee knew who he was.
You can hear Jackie's humorous telling of the story on the Huffington Post.