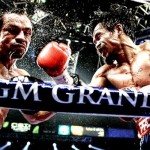 A former HBO executive who resigned in 2011 after failing to make a Pacquiao – Mayweather fight a reality says the fight could still happen, according to ABS CBN.
Ross Greenburg is the former president of HBO Sports and now an executive producer of rival Showtime.
He says Pacquiao must have a convincing win against Brandon Rios in December.
"He has to win aggressively… the beauty of boxing it's that you are always one fight away from being back in the big picture," Greenburg said.
Greenburg explains further in ABS CBN.