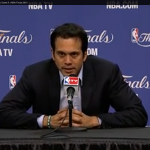 Miami Heat Coach Erik Spoelstra could win his second straight NBA Championship tonight.
The Heat are tied three games a piece with the San Antonio Spurs and the decisive game 7 is tonight on ABC at 9 Eastern/6 Pacific.
Yet as a blog by Sean Grimm in the Bleacher Report points out, win or lose tonight, most fans will overlook Spoelstra's contribution to the Heat's success.
The most common perception is that with a trio of superstars in Lebron James, Dwyane Wade, and Chris Bosh, anyone could coach the Heat.  But its precisely because he coaches such well accomplished players that Spoelstra deserves so much credit.
Juggling egos who make millions on top of millions of dollars and getting them to believe in your system is no small feat. But that's exactly what Coach Spo has accomplished.
A Filipino American from his mother's side, Spoelstra has implemented a complex defense that requires his players to remain discipline in their assignments while being aware enough to provide help to their teammates.
He's also managed to install an offense that plays to Lebron's strengths while creating opportunties for Wade and Bosh.
So if James is seen hoisting the Championship trophy tonight and you see Spoelstra standing in the background, remember the coach who rose from the ranks of the teams video coordinator to win his second straight NBA championship.
You can read more about what Spoelstra has accomplished in the Bleacher Report.