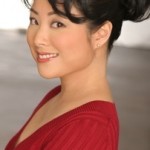 The state of being an Asian American working in theater remains a frustrating one for many Asian American and Pacific Islander actors.
As actress Miki Yamashita bluntly asks in her blog Smacktress, "why does it still suck ass?"
This week a panel discussion hosted by Actors' Equity Association was held entitled An Actor's Life For Me – Celebrating Asian Pacific Americans in Theater.
Actress Jodi Long recalled walking into an audition and being immediately told "We're not doing the show that way."  In Long's opinion, diversity and inclusion in theater is much worse today than it was 20 to 30 years ago. The other panelists agreed with her.
Tzi Ma suggested actors just walk out of the audition when presented with stereotypical roles. Tamlyn Tomita suggested with so few parts being offered to Asian Americans, each audition is that much more important and emphasized the need for continued training.  Parvesh Cheena suggested improv is a way to spread your wings in theater.
"When I do improv, I get to make the creative choice, so I never play an Indian guy, I go for 'Suburban Mom!'"
A casting director in the audience complained as much as she'd like to have a diverse cast, she didn't know where to find actors to bring them in for auditions.
And as Yamashita screamed in her blog, "We're literally everywhere."
You can read more about her thoughts in Smacktress.