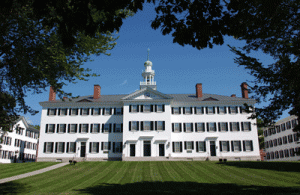 The history of Asian American students at Dartmouth is filled with starts and stops at attempts to launch an Asian American Studies program at the Ivy League institution, according to a blog by Yoo Jung Kim for The Dartmouth.
Kim researched the history of Asian American students on campus as part of an exhibit for Asian Pacific American heritage month. She says the most recent attempt occurred in 2004 when more than 1,200 signatures were collected and organizers won the support of the Student Assembly.
Efforts began in the 1990's and seem to be renewed every five or ten years, according to Kim. Many frustrated Asian American faculty members have left Dartmouth for other institutions where they can find greater support.
There are as many Asian American students on campus as African American and Latino students combined. Yet Kim says there are far fewer classes focused on Asian Americans as there are about other ethnic groups.
You can read Kim's thoughts about why that is in the Dartmouth.