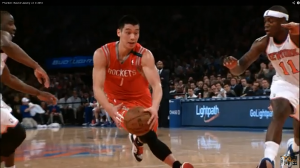 Houston Rocket's point guard Jeremy Lin is likely to be with a different team next season, according to a blog in the Latinos Post
The Rockets are itching to load up their roster with top line players during the off season. If they are successful in getting Dwight Howard, Chris Paul or even both, chances are Lin will be elsewhere.
Right now the biggest speculation is that Lin will be traded in a sign and trade deal. But the Latinos Post  also points to reports that Lin could be waived outright to clear cap space to sign Paul.
There are also two factors on the Rocket roster that make either of these scenarios possible.
Harden has become the Carmelo Anthony of the Houston Rocket.s When Anthony returned from injury to the Knicks, the ball was taken out of Lin's hand and he wasn't able to create offense for the Knicks without the ball.
Same with Harden. When the Rockets signed Harden, the Lin experiment was over. Rocket coach Kevin McHale elected to leave the ball in Harden's hands. Lin was reduced to being a point guard in name only.
Also Patrick Beverley has emerged as a capable back up to Lin and has McHale convinced he is a better back court mate for Harden. The biggest indication being McHale has left Lin on the bench in the fourth quarter in favor of Beverley.
I've stated earlier that Lin would be better off away from the Houston Rockets. It's looking more and more that that scenario will play itself out.