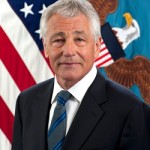 U.S. Defense Secretary Chuck Hagel has apologized to an Indian American professor after asking him before a room full of people if he was a member of the Taliban, reports the Business Standard.
The remark intended as a joke took place at the University of Nebraska early last week.
Robert Gandhi was about to stand up at the event to ask a question when Hagel interrupted and asked, ""you are not a member of the Taliban, are you?"
A spokesman for the Pentagon would later describe the remark as a "lame attempt" at humor not "directed at anyone in particular, including the professor."
Hagel personally called Gandhi to apologize.
"He (Hagel) expressed regret for any trouble this caused the professor,"   George Little, Pentagon Press Secretary said.
You can read Gandhi's reaction to the whole incident in the Business Standard.