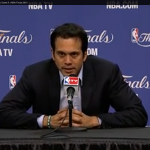 The nation's biggest sports fan personally called Miami Heat coach Erik Spoelstra to congratulate him on his second straight NBA championship, reports GMA.
President Obama said he looked forward to congratulating the team once again at the White House.
"On the call, the President noted the Heat's relentless determination in what was an historic season for the team and their MVP, Lebron James," the White House spokesperson said in a statement.
Spoelstra is the first Asian American to coach in the NBA and one of just eight coaches to ever win back to back championships.
The Filipino American last year traveled to the Philippines for a tour of the championship trophy and has been there as part of the NBA FIT program.