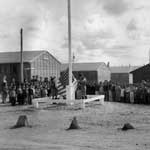 Bitter sweet memories returned for scores of Japanese Americans who made the trek back to the Minidoka Incarceration Camp in Idaho, reports MagicValley.com.
The annual pilgrimage to the prison for 7,000 Japanese Americans during World War II this weekend attracted 200 people.
"I think for most of us, it was an injustice against us," said World War II veteran Tosh Okamoto who was locked up at Minidoka before volunteering to fight for the U.S. during World War II.
"We could have been really angry," he said, but most of his peers aren't. He said being locked up solely because of his ethnicity hasn't prevented him from moving forward.
Almost 70 years later, only a few of the 600 buildings remain. An honor roll with the names of those Minidoka prisoners who served for the U.S. in the military during World War II  is prominently displayed.
Also this weekend, the Minidoka Civil Liberties Symposium was held to discuss the constitutional lessons learned from Minidoka.