Reality TV mom Kate Gosselin today responded to a photo of her apparently mocking Asians by declaring "I'm the last person that could be called a racist."
Gosselin  starred in the reality program "Jon and Kate Plus 8" featuring her 8 children, including the sextuplets, she had with her Korean American husband.
She said the photo tweeted out by someone with the twitter handle @katiedeen888kat was taken by her now ex-husband during a "happy moment"  in their marriage.
She said a fan had sent the couple a dress up Asian wig in response to an episode when Kate lamented she was the only one in her family who wasn't Asian.  She said the two took turns posing with the wig.
"Naturally I slanted my eyes to show him my best Asian impression which made him smile," she wrote in her blog.
"I married an Asian. I have eight biracial children therefore I'm the last person that could be called racist."
She also posted a picture of her husband posing with the same wig.
It's unclear who tweeted out the picture of Kate with her eyelids pulled back. But is is the only thing ever tweeted from that account.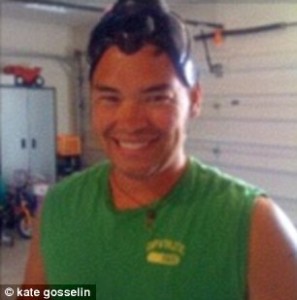 Kate  has previously said she would file a lawsuit against her ex-husband and author Robert Hoffman after the release of a tell all book