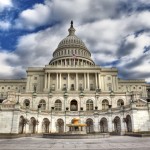 The U.S. Senate has passed a key amendment that moves it closer to a bipartisan agreement on immigration reform, reports ABS CBN
The Senate voted 62 to 27 to impose key requirements that would strengthen border security. The amendment was considered necessary to win support from Republicans to the Immigration bill.
The amendment mandates that 5 provisions must be met before undocumented immigrants can become permanent residents.
–20,00 more border security agents must be hired
–an additional 700 miles of fence must be built along the US Mexican Border
–$3.2 billion dollars in equipment upgrades must be purchased.
–E-verification system must be strengthened
–Border entry-exit controls must be strengthened
"It's now time to get things done." said President Obama.
But not all supporters of immigration reform were pleased with the new developments.
"The conversation has revolved around too much conversation about border security, said undocumented immigrant and journalist Jose Antonio Vargas.  "My border was the Pacific Ocean. It wasn't the U-S Mexico border. I understand the country needs to secure its border. But I think we need to ask deeper questions: What is border security about?" said Vargas.
You can read more about the debate over the amendment on ABS CBN.