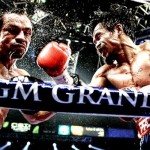 Boxing legend Manny Pacquiao dropped to 78th in Forbes top 100 list of most powerful celebrities, reports the Inquirer.
Pacquiao who grossed $34 million dollars last year fell from his previous ranking of 33rd place on the most powerful celebrities list.
This drop coincides with two defeats in the boxing ring last year, including a knockout by Juan Manuel Marquez in December.
His earnings ranked him 57th in the world. He's 82nd in media exposure and 60th in marketability.
You can see how all this compares to other big name celebrities in the Inquirer.