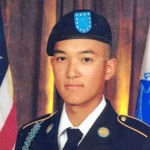 All signs are pointing to the City of New York giving final approval to rename a street Danny Chen Way, reports WABC
Danny was a private in Afghanistan and the target of hazing by his fellow troops. The 19-year old ended up killing himself two months into his deployment.
The New York City Council's Transportation Committee is the latest to give its approval to the idea.
As AsAmNews has previously reported, the proposal has the support of Danny's family along with various Asian American civil rights groups.