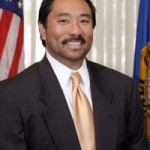 Concern is mounting in the Filipino American community that the electoral boundaries of Daly City, CA will be divided into two, reports the Inquirer
Daly City is fondly known as the Filipino Capital of America with about a third of the city's 144,000 residents Filipino Americans.
"The Daly City residents' central concern is that Daly City must not be divided at all. I thought this meeting was very well attended." said Daly City Mayor Ray Buenaventura (pictured here).
The county recently approved district elections in which each district will now elect its own supervisor. Previously all 5 supervisors were elected county wide.
Others however deny there is any intention that the boundaries of Daly City will be split. "Cities can stay the same. We are taking a hard look (at the "majority" minority in the city)." said Supervisor Adrienne J. Tissier
 You can read a closer look at this controversy in the
Inquirer
.