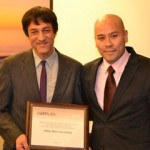 Peter Kiang, director of Asian American Studies at the University of Massachusetts, Boston has received the 2013 Distinguished Scholar Award, according to his university.
Kiang was honored by the American Educational Research Association Special Interest Group, Research on the Education of Asian Pacific Americans.
"I was surprised," Kiang said. "In my work in particular, which has focused on the local populations and the local students of UMass Boston who are predominantly working class immigrant refugee background, those student profiles are not typically in the dominant education research literature, so the award was not just recognizing my own scholarly contributions or accomplishments, but it was really recognizing the importance to the field of work with these populations."
UMass Boston has the largest Asian American Studies program in all of New England. You can read more about the department and Kiang's research in this story from the University of Massachusetts, Boston.