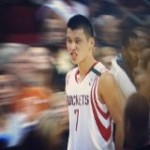 Sources are telling Detroit News beat writer Vincent Goodwill that there's no truth to the story that Jeremy Lin could be traded to the Detroit Pistons
According to the Detroit Sports Site, Vincent Goodwill tweeted the denial shortly after CBS Sports' Ken Berger tweeted that such a deal was possible.
The potential deal would send Jose Calderon to the Rockets for Lin in a sign and trade.
But the Detroit Sports Site says more than likely the Pistons would want to keep Calderon who hit a ridiculous 52 percent of his three pointers last season.
Still a deal for Lin would be intriguing. You can read more about that in the Detroit Sports Site.