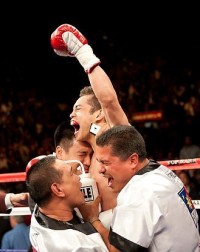 Many in the Filipino community are looking to Nonito Donaire(pictured left)  to be the next Manny Pacquiao.
According to Donaire's  trainer, the Filipino Flash will help Brandon Rios train for his upcoming fight with Manny Pacquiao, reports ABC CBN.
Both Donaire and Rios share the same trainer, Robert Garcia.
It's not completely surprising Donaire would assist in training Rios.
But I'm wondering how some in the Filipino community might see this. Will they be upset that Donaire is putting himself in the opposite corner from arguably the most revered Filipino in both the United States and the Philippines?
After all, boxing is not a team sport so its not like Donaire and Rios are on the same team. But then again, Donaire may be just doing his trainer a favor.
You can read more about what Donaire is doing for Rios in ABC CBN and then voice your opinion below.