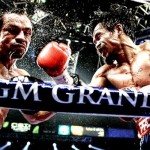 It read as if one Filipino champion was helping to defeat another Filipino champion and boxing icon.
But according to a blog by Alex Groberman in Opposing Views,  Nonito Donaire is calling the story from ABS-CBN   "misleading. "
AsAmNews blogged about this, wondering if fans would be understanding of one Filipino hero helping to defeat another.
Donaire who is known as the Filipino Flash sent a tweet  to AsAmNews saying "pls delete ur article. It is misunderstood. I am helping by not asking robert(Robert Garcia, trainer for both Donaire and Rios) to leave n focus on bambam (Brandon Rios)."
Here's what Groberman says about all this.
"Aside from being Filipino and short enough to stand in for Pacquiao, what insight could Donaire possibly offer? It's not like he has some sort of wealth of knowledge that would help Rios out. Donaire and Pacquiao are two different fighters, at two different stages of their careers, employing two different game plans for success. The idea that Donaire would or could offer any more assistance than any other training partner is nonsense."
You can read more of Groberman's arguments in Opposing Views.