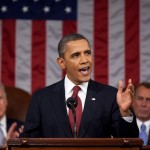 President Obama met with the Congressional Asian Pacific American Caucus at the White House today to discuss a wide range of issues including immigration reform.
Mister Obama urged the Caucus members to push the House to pass reform which he says is necessary to reduce the deficit, improve the economy and create jobs, according to a report in Asian Fortune.
CAPAC thanked the President for doubling the number of AAPI judges currently serving. The President repeated his commitment of hiring a diverse administration. That diversity took a hit with the recent resignations of Energy Secretary Steven Chu and Cabinet Secretary Chris Lu.