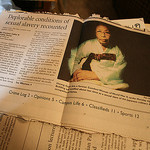 Opposition from Japan has successfully blocked a decision from the City Council in Buena Park near Anaheim about whether to build a memorial to comfort women, reports the Arirang News.
A vote had been scheduled for this week but was delayed when the Council received a letter of protest from Consul General Jun Niim. In the letter, Niim said Japan had provided sufficient reparation to war victims.
In addition, the council received 300 complaints about the possible memorial to women enslaved during World War II for the sexual pleasure of the Japanese Imperial Army. Opponents argue the women were not slaves, but prostitutes.
Meanwhile, the city of Glendale also in Southern California will unveil a replica of a "peace monument" to comfort women in Seoul.
The Glendale City Council approved it earlier this month, but members of the Japanese American community are expected to lobby for its removal.