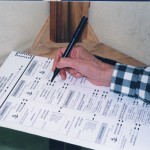 The stereotype of Asian Americans is that we're hard working and over achievers. Unfortunately when it comes to politics and community engagement, the community is  made up of a majority of  slackers.
That's the opinion of Karthick Ramakrishnan, a guest blogger today for  Angry Asian Man.
Ramakrishnan is a political science professor at the University of California, Riverside and directs the National Asian American Survey. Just 47 percent of  adult Asian American citizens bothered to vote in the 2012 election. That's significantly less than the participation from African American, 66%, and white, 64%.
Latinos have a 48 percent participation rate, just slightly higher than Asian Americans. This pattern dates back at least as far back as 1992.when Ramakrishnan began looking at this.
You can read more on Ramakrishnan thoughts on this issue in Angry Asian Man.