Photos & Text by Emil Guillermo
Lincecum is the two-time Cy Young winner and recent no-hit hurler. Barney was  last year's winner of the Golden Glove award as the NL's top second baseman.
On this day, Lincecum struck out Barney with an 84 mph slider in the first at bat.
Then he got Barney  in the 5th to line out to right on the first pitch.
In the 7th, Lincecum got Barney out on a grounder to short.
Lincecum actually out hit Barney with two singles .  And Lincecum was hitting  just 2 for 36 entering the game.
On the mound, Lincecum made just two mistake pitches to the Cubs, both home run balls, one to the pitcher Travis Wood that put the Cubs ahead 1-0. The other to catcher Wellington Castillo in the 7th that again put the Cubs ahead 2-1.
The Giants tied the game in the 5th on a double by Pablo Sandoval.
Lincecum won his duel against Barney, but left the game after 7.
The Lincecum line  was 7 innings pitched, 4 hits, 2 runs, both earned, 2 walks, and 10 strikeouts.
Lincecum deserved a much better fate, but the Giants offense has been anemic.
With runners in scoring position, the Giants are hitting just .194 (48-247) in the last 31 games. They had numerous chances to help Lincecum, but managed just the single run for him.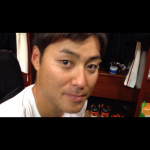 The game ended with Kenji Tanaka stranded on third base for the Giants. Tanaka walked,  stole second and went to third on a throwing error. Final score Cub 2-Giants 1.
Veteran journalist Emil Guillermo takes a break from the news with his Linceblog, covering baseball and the San Francisco Giants.  He writes for the Asian American Legal Defense and Education Fund, (www.aaldef.org/blog) and at www.amok.com