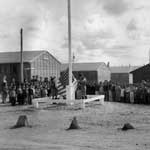 Just say the words redress or reparations and most Japanese Americans know what you mean.
25 years ago this Saturday, the United States formally apologized and granted reparations  to Japanese Americans incarcerated in 10 prison camps across the country during World War II simply because of their ancestry.
This Saturday the Watsonville-Santa Cruz Japanese American Citizens League will celebrate the 25th anniversary of the passage of the Civil Liberties Act of Aug. 10, 1988, reports the Santa Cruz Sentinel.
The Act granted $20,000 to each person who lost their freedom during the four years of their lives living behind barbed wire.
"Naturally, I was happy that the United States, that my country, could make such an apology for what it had done," Ben Umeda said. "But you can never completely right a wrong. "… In my mind, it will always be there that we had to go through that."
Umeda lead the local JACL chapter's redress efforts as part of a national movement for reparations. The movement managed to win the support of liberals and conservatives alike, and President Ronald Reagan signed the Act into law.
You can read more about Umeda's personal journey and the movement for reparations in the Santa Cruz Sentinel.