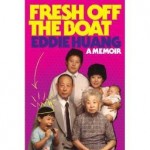 Taiwanese American celebrity chef Eddie Huang will host a new show on MTV, reports Eater.
The show Snackdown will feature "amateur chefs battling it out in an array of snack-inspired challenges for a cash prize."
Model Chrissy Teigen and chef Jason Quinn (The Playground, Santa Ana, CA) will serve as judges.
A third judge has yet to be named.
Huang is author of a memoir Fresh off the Boat. The book describes the racism he faced as a youth, his felony conviction during his college days and how he turned his life around to open one of New York's premier restaurants. BaoHaus.