Priyal Patel
Entertainment & Culture Blogger
Singer Jason Derulo debuted his music video for his latest single, "Talk Dirty," which features Middle Eastern-inspired beats and multicultural female dancers. Middle Eastern and South Asian influence have been prevalent in the music industry as of late, so this came to no surprise to me. It was not the half clothed women or booty- shaking dance moves that caught my attention, (perhaps I'm numb to that now as far as music videos go), rather it was the traditionally dressed, Tahitian dancer in red. I was surprised, shocked and excited at the same time.
Let me explain.
Not only am I of South Asian descent, I am also a Tahitian dancer. I have grown up with both cultures, Indian and Polynesian and have been dancing for over 18 years. My excitement stemmed from seeing someone that looked like me, and did what I do. For those that aren't familiar, Tahitian dancing originates from the island of Tahiti and consists of hip shaking movements. This is something you typically see when you visit Hawaii or attend a luau, not in a hip hop video. Polynesians are proud of their culture and strive to preserve their native culture and traditions. Dance is a very important aspect of their culture and they always perform with love and respect. As a dancer, it is important for me to do the same. That's why I needed to pause the video to study the dancer. In less than 3 seconds of quick cuts I had so many questions and thoughts running through my mind. "Was she a real Tahitian dancer? Was her costume authentic? Did she perform traditional moves? That could have been me!"
I paused the video and realized that I recognized the dancer. The featured Tahitian dancer in the video is an LA native, and my friend, Leolani Gallardo. Like me, Leolani has been a Polynesian dancer for most of her life. She has numerous dance titles and has traveled around the world teaching Tahitian dance. I have watched her perform, danced along side her and even competed against her in dance competitions. As professional performers, and lovers of the culture, we both strive to preserve the culture and passion we have for Tahitian dance. I was proud of my friend, but also wondered how she felt about dancing Tahitian to a hip hop song entitled, "Talk Dirty." And more importantly, why hadn't she told me about her cameo in a platinum selling artist's video?
Leolani explained that although she was humbled to represent that Tahitian dance community, she was also afraid of backlash from the Polynesian community as well as from fellow dancers. She appreciated the fact that women such as myself could identify with her, especially in an industry where Polynesians are a minority. She was not sure about how people would react to seeing it in a mainstream hip hop video. Leolani shared that while working in the entertainment industry, she has had moments of doubt, where she questioned herself, "I have good intentions, but I wondered, was I exploiting the culture?" This doubt was reinforced when she was asked to drink seductively out of a red, product placed energy drink. One scene even has her dancing while holding up with drink, "I felt like I was in a commercial."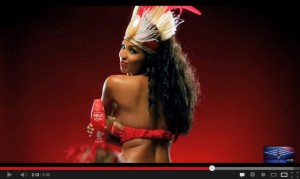 Although some would say mixing traditional culture with pop culture is "selling out," Leolani's intentions remain pure. Her goal is not only to "spread the Aloha," but to "empower women through dance and movement." Leolani explains that Tahitian dance allows a woman to express her femininity. However, she does acknowledge that the line between femininity and sexuality is often crossed in mainstream media. The portrayal of women in pop culture predominantly consists of over sexualization and remains a struggle women in the industry face.
The ultimate question remains: should we be flattered that there are ethnic women and dance in this video, or insulted by the way they are portrayed? I'll admit, I wasn't too keen on the Aladdin-type costume the Indian dancer was wearing, but it was nice to have my culture in the spotlight. Would Tahitians feel the same way about Leolani? Perhaps they will, but we can only hope that Leolani's presence in this video opens more doors for Polynesian dancers and artists in the entertainment industry.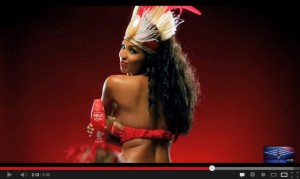 You can watch the video here.
(About the author: Priyal Patel is an entertainment and culture blogger for AsAmNews. Priyal also works in the TV & Film Production Industry as well as public relations)