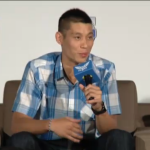 Jeremy Lin has not only been brushing up on his jump shot, he's been working on his Mandarin, reports 3 News.
Lin answered in both Mandarin and English at a news conference in Taiwan.
Many of the questions were about Dwight Howard.
"We feel that having Dwight Howard allows us to be a better team. So if we work hard, if we practice hard, I feel that we have a chance to get the NBA title."
You can watch and listen to Lin speaking Mandarin in
3 News
.
Before heading to Taiwan, Lin spoke with Jason Friedman of Rocket.com
According to
Cross Map
, Lin openly talked about his struggles last season.
"Last year was a lot more rehab-oriented. Last year was actually a very frustrating summer of training because I was supposed to be ready a lot earlier, but the first two to three months of the summer just didn't go as planned," Lin explained.
This year he says he's been able to focus on improving his basketball skills. He has no worries about fitting in with the Rockets offense now that Dwight Howard is in the mix.
"Each and every day is just about: how can I get better every day? I'm not too worried about fitting in because I don't yet know what that's going to look like. I won't have a tangible understanding of what everything will look like until we all get together for training camp. But from a skill standpoint I know very clearly what I need to get better at," said Lin.
You can read a lot more of Friedman's extensive interview with Lin in
Cross Map
.