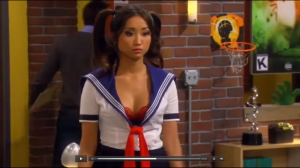 The Media Action Network for Asian Americans or MANAA is demanding that producers for the Fox sitcom Dads reshoot the pilot to remove the offensive portrayal of Asian Americans, reports Deadline Hollywood
The pilot which has been roundly criticized by critics includes small penis references about Asian American men, but the scene getting the most attention involves actress Brenda Song who wears a sexy school girl outfit and giggles to impress some Chinese businessmen.
MANAA put its demands in a letter on Monday and is waiting to hear back from Fox which says it is still formulating a response.
Executives from Fox had previously said that Dads was searching for the right comedic balance and acknowledged the show would need to be recalibrated.