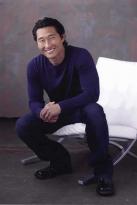 Buzz Feed has come up with a list of 27 leading Asian men it says we should be seeing more of on television and in the movies.
Some of the names you've probably already know–people like Daniel Dae Kim of Hawaii Five-O  and Naveen Andrews of Lost.
Others you may recognize but not know by name.
And still others you may see for the first time.
And hey, many of you may enjoy the pictures of shirtless men in this story.
Check out the list and the pictures on Buzz Feed  and let us know if  you can you think of anyone else who could have made this list.
Who do you think are the hottest of the hotties in this group?