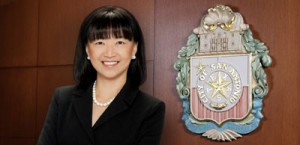 A secret recording circulating of San Antonio City Councilwoman Elisa Chan making anti-gay remarks is being defended as free speech, reports News 4 San Antonio.
The remarks were secretly recorded during a staff meeting. The news has gone viral, well beyond the borders of San Antonio.
"It's always disappointing when Asian Americans in leadership positions fall short," said actor and gay activist George Takei.  "Personally, I find this woman's actions repugnant. San Antonio, it's time to dump your trash and make sure the likes of Elisa Chan are never reelected."
In her remarks, Chan is heard saying
"Personally, I think it's just disgusting," Chan said speaking about homosexuality. "They're going to be confused. You're going to see two men going into bedroom. You see two women kissing. Is that not confusing?"
Chan has promised to make herself available for interviews, but that has not happened so far. Instead she released this statement.
"Comments from the staff meeting on May 21st were and are my personal opinions and thoughts as guaranteed to me by the first amendment of U.S. Constitution. It is unfortunate that a former member of my D9 council team betrayed the trust of my staff members and me. I will fight, I will always fight for our freedom of speech especially in a private setting."